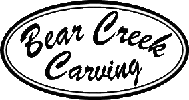 Dan Zeadker was born and raised in Toledo, OH and currently resides in Delta, OH.
His business is located nearby in Wauseon, OH. Corner of Airport Hwy & Shoop Ave next to Rite Aid Store
Dan retired from GM in 2000. Dan has been carving now for about 14 years.
He has carved many commissioned pieces locally for the City of Wauseon, the Fulton County Fair Grounds, and at the Williams County Fair Grounds.
He has commissioned pieces in Canada and as far away as California.
Dan does custom chainsaw carvings, from a families beloved German Shepard to lighthouses.
Dan began with eagles progressing to bears, his line has expanded to a full range of animals, benches, garden art, custom made mantles.
Dan does on-site carving and commissioned orders.

Call 419-337-8911 anytime to set up appointment to visit our showroom.
Carver/Artist Dan Zeadker Delta, OH 43515 may be contacted at:

1-419-337-8911
or
info@bearcreekcarving.com copyright©Dan Zeadker &nbsp&nbsp http:// www.bearcreekcarving.com